AS-122 : Dual Channel Active Splitter   

SOLD OUT
AS-122 is a dual channel active antenna splitter (1 BNC to 6 SMA per channel) for use with up to six diversity receivers. With its rugged and compact housing, it is designed for harsh conditions and can easily be used in an audio bag or a sound cart.
Both passive and active antennas can be plugged in BNC inputs using DC feed feature. A LED indicates if RF level is too high on each channel. The unit is powered from an external DC supply plugged in Hirose 4 pin connector.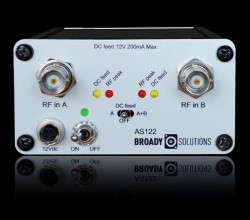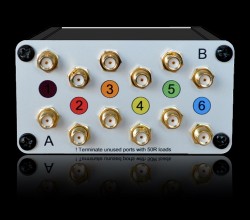 Specifications
Bandwidth : 100MHz-900MHz
Gain : 0dB (+/- 1dB)
Noise figure : 1,5dB
OIP3 : > 30dBm
Isolation : 15dB
RF inputs : 2 BNC 50ohms
DC feed : 12V/200mA
RF outputs : 2 x 6 SMA
Power Consumption : 150mA without DC feed
Power supply : HRS4, 12-15V
Dimensions : 88 x 84 x 44mm
Weight : 265g
AS-122 Quick Setup : Download